I love funny old sayings. One of my most favorite things about my husband is his desire to be that old guy that talks in cliches and funny old sayings. I'm very excited for it, and I am full of fits and giggles when he pulls them out early. I can be talking about how hard something is going to be or how much doubt I have that I can do something, and he will say, "Well that's a turtle on a fence post."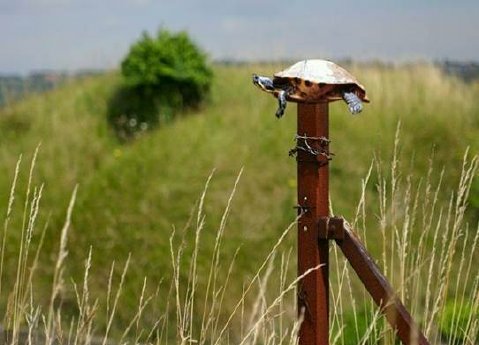 Uh.
What?
My funny saying of the week is "when it rains it pours". Well ain't that the truth? I have been feeling restless and like there is something frantic going on about me, but I have no idea what it is because I missed a memo somewhere along the way. As it turns out I am not the only one. Not by a long shot.
I feel like I am standing in the middle of a road where a marathon is taking place. All the runners are speeding by or limping by or jogging along slow and steady. But I am standing with my arms reached out to no one in particular and I am shouting, "SOMETHING IS WRONG. SOMETHING IS HAPPENING." And I want everyone to stop and someone to explain it all to me. And then I hear this voice.
"I have you now. Take a step. You don't have to know the trail by heart. Just take a step. I have you now."
That's God. He is saying I am right. Something is wrong. Many somethings are wrong.
Friends from our church had a baby Tuesday morning. He was deprived of oxygen, and as I type they are removing the hypothermic cap from his head to asses the level of brain damage he may have. His kidneys aren't functioning and he is infected.
My pastor and his wife have been waking up with nightmares for two weeks. Screaming, ripped from their sleep because they are sure they are dying nightmares.
One of my besties is experiencing what feels like another round of health issues. This time last year she was inches from death. No kidding. We didn't think she was going to make it through the night.
My husband is losing his job with the Reno Fire Department. Again. And while this feels more like a "fool me twice" moment, it hurts all the same. I look out my window and see a wolf prowling. Pacing back and forth along my sidewalk.
And I could probably keep searching and write ten pages on what else is wrong. Shoot. We didn't even get into how many starving kids are in my city.
Instead, I am struck with the thoughts of how many things are still so right.
God made and holds that little baby. He was not caught off guard that Matthias was deprived of oxygen. Instead, he holds him in his hands and reminds us that he writes the perfect story. He grew that baby from nothingness.
My pastor and his wife know how this story goes. They have read the end of the book, and they know where the real power lies.
Natalie could have fallen into a freak out depression after everything she experienced. Instead she went and got beautiful and took authority over her health. Even still she is putting her faith in a God who promises good things for her and her life.
And as I was reading through the story of Lazarus, I realized how many truths can be found in the stories we hear all the time and easily dismiss. Here are facts found in Lazarus rising from the dead that apply to my husband's life and job right now. Right here. Today. This two thousand year old story relates perfectly to my home.
It may help to read it first. CLICK to read JOHN 11
John 11:4 Michael losing his job will not end in death. It has happened for the glory of God.
John 11:5 Jesus loves us.
John 11:8 People around us may be doubtful of where and how God leads us.
John 11:12 God sees our situation differently than we do. God doesn't see death as an obstacle.
John 11:14 God can use us, our story, our attitude, and our reaction to help others believe.
John 11:16 We can be like Thomas: all in this together- we can be like Esther: if I die, I die.
John 11:23,24 We should not assume we know what God means when he speaks; we should ask.
John 11:25, 26 Jesus is patient and explains how we need explaining.
John 11:27-29 Once we remember God is who we trust because he is worthy, we are free to obey him and we should do so quickly.
John 11:30-32 God can handle our anger and frustration and doubt.
John 11: 35 He hurts when we hurt.
John 11:37 People will come at us with doubtful theology.
John 11:40-43 There's a chance that, if we allow Jesus to lead our lives and be miraculous, many will believe in him.
John 11:44 Jesus intends to unwrap us from what has been binding us and let us go out.
Amen
Sometimes there is sense in the nonsense. Hmm. Sounds like another one of my husband's funny sayings.